Description
Whill Model C Mobility  – Big Advantages In A Compact Frame
Drive across town in your whill model c and into your local cafe with the greatest efficiency and confidence knowing Model C will easily power over the terrain ahead and comfortably fit into any environment. Adventure awaits, nearby, right now. You need to go to it, go through it. Accept the challenge and take Model C along for the adventure with its outdoor versatility, long range and its ability to transport in any car.
Equipped with intelligent innovations, such as the very latest in app controls and mobile data network connectivity, for greater independence and premium support. Manage your device with the iPhone or Android app. Ensure your Model C is always operating at its best.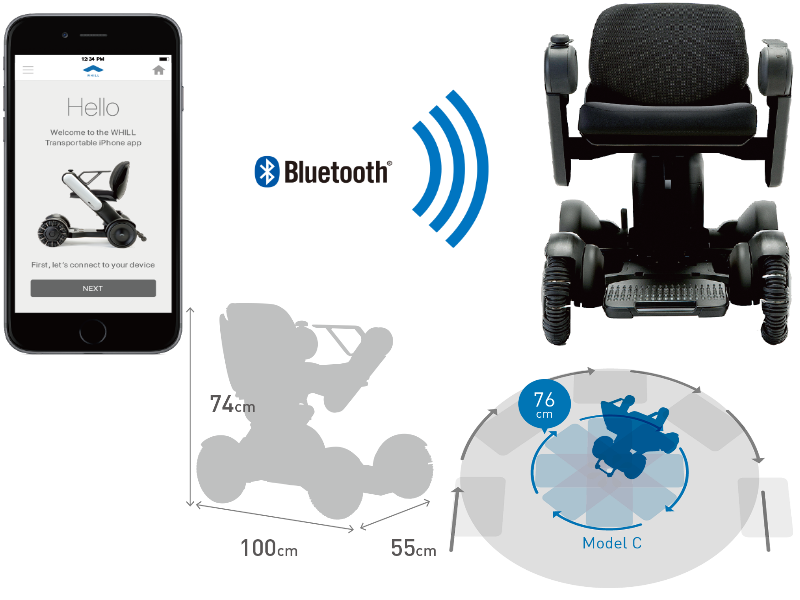 Enter into tighter spaces with a significantly smaller footprint than the traditional mobility scooter.
Navigate in close quarters with a 45% smaller turning radius than tiller controlled mobility devices.
Effortlessly climb over obstacles up to 5cm in height with its two powerful motors and large front omni-wheels.
Travel unhindered over rough terrain with a 5cm ground clearance.
Charge your mobile devices with the built-in USB port
Lock/Unlock with the optional Smart Key
Ergonomic controller provides all-day comfort.
Device power, 4 speed settings, safety horn and battery life indicator easily in reach.
Voice notifications alert you when Model C encounters operational errors.
Arms easily rotate out of the way for easy access and barrier free use at tables.
Electromagnetic brakes eliminate unwanted forward and backward rolling.
Anti-sway feature helps keep the device driving in a straight line on side slopes.
Whill Model C Performance Specifications
| | |
| --- | --- |
| Driving Range | 15 km |
| Maximum Speed | 6 km/h |
| Drive System | Two Motor Drive System |
| Incline Capability | 10 Degrees / 17% |
| Controller | WHILL Control System |
| | |
| --- | --- |
| Turning Radius | 75 cm |
| Max Obstacle Height | 5 cm |
| Ground Clearance | 6 cm |
| Braking System | Electromagnetic |
| Max Weight Capacity | 115 kg |
Whill Model C Dimensional Specifications
| | |
| --- | --- |
| Chair Weight | 52 kg |
| Chair Width | 40 cm Seat = 55cm/46cm Seat = 60cm |
| Chair Length | 100 cm |
| | |
| --- | --- |
| Front Wheel Diameter | 25 cm Omni-wheel |
| Rear Wheel Diameter | 27 cm |
| Rear Tires | Non-Puncture |
Other Specifications
| | |
| --- | --- |
| Charging Time | 5 Hours |
| Battery Charger | Lithium-ion (25.2V 10Ah) |
| Seat Cushions | 40 cm x 40 cm, 24 cm x 24 cm |
| USB Port | Single |
| | |
| --- | --- |
| Operating Conditions | -20℃ to 40℃ |
| Tail Lamps | Red Light |
| Horn | Built-In |
CONTACT US FOR MORE INFORMATION